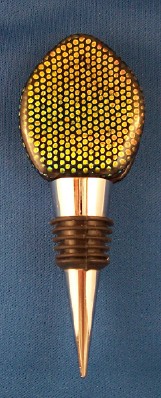 Stained Glass Accessories
Purse hangers,
wine bottle stoppers,
crystal nail files
Welcome to Glassy Lady - dedicated since 1998 to the ancient art of handcrafting and specializing in warm glass and stained glass gifts. Choose from fused glass inspirational sayings, dichroic glass jewelry, fused glass and Swarovski suncatchers, fused glass sushi dishes, and fused glass coasters - all proudly handcrafted in the U.S.A. We are happy to custom frame your favorite saying, verse, wedding invitations and other keepsake documents using traditional stained glass methods. We ship any size order at a flat rate to U.S. addresses. Many of our handcrafted gifts are priced at $10 and under!
One of our most popular offerings here at GlassyLady is our free resource for wedding Bible verses. Click here if you'd like to read it.