Velvet Ribbon Bookmarks
with Cross, Heart, or Red Hat Charms
Made in the USA
BK-100, BK-200, BK-300
$3.50
Mark your place with our classy Swiss velvet ribbon bookmarks. Each bookmark includes a heart, cross, or red hat charm on one end, glass beads or inspirational charm such as "imagine" or "wish" on the other end. Beads and charms will vary, so no two are alike: Choose your ribbon color and heart, cross, or red hat charm; we'll choose the beads.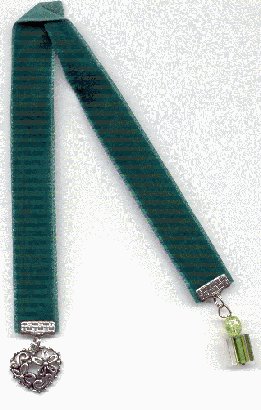 Approx. 12" in length

To purchase, choose style and color below, and click the "Buy Now" button. Quantities can be adjusted in the cart.
Bookmark with cross charm:
Bookmark with heart charm:
Bookmark with red hat charm: